==280602
Taken From THE STAR this morning..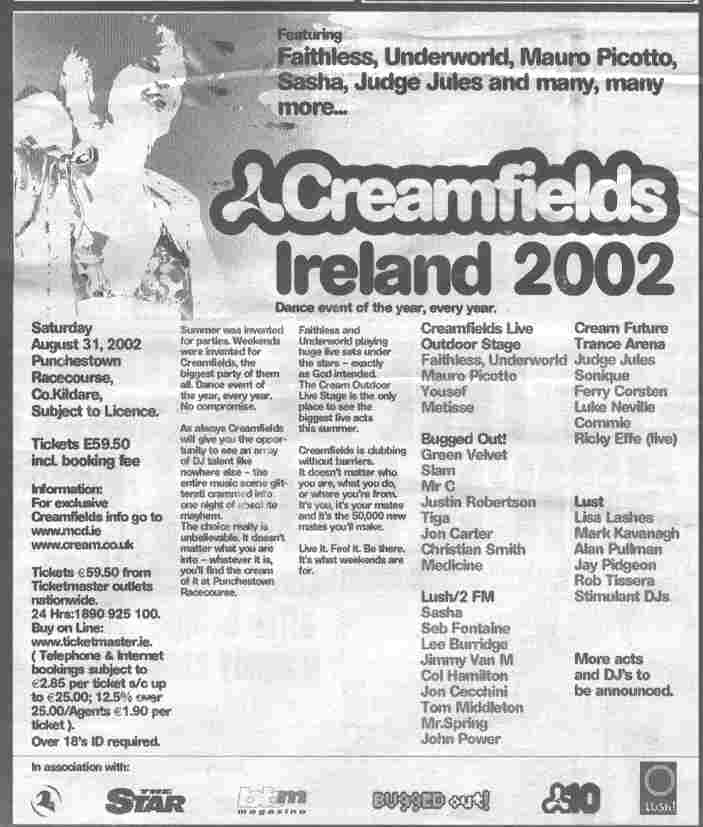 2 Strange things: Who is "Alan Pulman"? Surely not the God Of Mobile Catering? The inventor of the Luxary Train Carriage? THE 1st class pioneer? and.. What's all this Percentage/Euro symbol Booking-fee riddle all about? Is it a Krypton-Factor Type test? And Why do only Over-18s have to present ID? Oh sorry, that's 3 things. Anyway.. there you have it.. Plans are still bieng made/adjusted for Creamfields Ireland 2oo2.. This is much better news thank you very much.. I like this. It speaks volumes.. it says things like: "There still may be a Serious dance festival in Ireland this year.. in fact, it`s looking slightly more likely all of a sudden".. Ho hum.. Today is the Official Release date for FREQUENCY on the PS2.. It`s the first original game in years.. If you are into music or have any rhythm, this is the one for you.. Mmmmmm..
==270602
Power updated his script.. Threat of a Happening this Saturday in Mohill.. mmm.. Lynx.. time for a flashback.. Lots of comments on the Cream-gate scandal.. Is this some vendetta the Newspaper in 'pool has? Don`t they like Cream or something? Haven`t they got anything else to do besides Causing News to happen,writing about it and then trieng to extend it`s scribbilabilityness by handing things over to the cops? Mmm.. Bet the reporter was turned away some big night or something.. Ditto for the cops. Oh, and the council. They probably refused the staff doo that Xmas.. Anyway. New choon up on playthatbeat.net tonight.. That is if i can get this computer to stop "clucking".. harddrives are hell... Oh dear.. I think the harddrive is haunted..I took the covers off (a quick job since the screws have been lost since day 1..) and the ticking sounded more like a clunking.. to scale.. So i sollowed the clunk, and was ALMOST sure which drive was doing it.. WHEN IT STOPPED. Mm.. And everything is fine since. Mmm. And the drive clunking is only 6 months in there.. IS it me.. or are harddrives getting Bigger, Cheaper and Woosier all at the same rate? I have a 120MB seagate here that still works, got it in 1991 and it's never let me down... blah blah.. 80MB drive lasts only 3 months now.. blah.. And as for Zipdisks.. Don't get me started.. Anyway, what's the life-expectancy of a harddrive thesedays? 48 hours per buck or something??? And another thing, newer drives are soooo difficult to convert to ashtrays thesedays too.. sealed blocks an so on.. Since we've been mentioning cream alot, i have to draw your attention to a Compilation LP they have just done and declare it Compulsary - "Cream Collect // Techno. Its Wonderfull.Triple-Decker, And Soooooo juicy.. oozing with sauce.A major OldSkool Vibe i can assure you.. Infact, it's "the way you would have done it" if you`d had to compile it. Pity it aint on DVD so you didn`t have to leave the chair.. With Commentary.. And subs.. and newly appointed visuals.. ehm.. it's a HISTORICAL collection. Mmm.. Baby Blue..
==260602
Very disturbing news reached us 2day via the SEVEN UPDATE weekly dance-music magazine.. Fraud Squad Detectives Raided the homes of Cream director Stu Davenport and Liverpool-City Council Official Bill Wadkin This day last week. Local Liverpool Newspaper "The echo" Handed a dossier over to the Coppers re: an alleged 10-grand "consultancy fee" given to Wadkin just before he dealt with the planning application for Creamfields in 1999!! The 2 were actually arrested and later bailed while the police went through the computer disks siezed in the raids! On a scale of 1 to 10 in messiness, this is a sizable 8.. I`m not sure what the cops are getting at here, since anyone hoping to present an event on the scale of creamfields should have the right to hire anyone they damn well please to advise them - and such an event would have heavy planning requirements and need expert consultants.. i suppose they suspect a conflict of interest at play since the Consultant was a Liverpool Council official at the time.. Anyway.. maybe these events will help shed some light on why the Creamfields Ireland thing is going so badly so far... I am STILL getting an email a day asking about it all.. Not only from concerned clubbers, but from Irish AND Import Acts too.. I can confirm that NONE of the acts i have spoken to have been contracted.. NO deposits have been paid and those asked to put lineups together have run up against brick walls when trying to finalise their lineups.. they were asked to get the lineup organised, and then ignored when they asked for deposits and so on... The biggest point floating in the bowl currently is the VERY suspicious push on WHITLESS recently.. with the emphasis now switched to the token dance acts/tent since the rock-heads have been saturated with metal.. Add this to the SLANE gig happening a week or 2 before the alleged creamfields date ("subject to licence" = get out of jail free card) and multiply it by the fact that all these 3 events are MAJOR events and organised by the same people (M-Cee-Dee-Dot-Eye-Eee), and you begin to see the picture a bit more clearly as to why C'Fields seems to be-be-ing forgotton.. sort of.. Most suspicious is the shifting of the Creamfields date from June to september.. AFTER the 2 weaker events have taken place.. Are they taking preference? Are they F*ck! I think we can safely start placing bets on it not happening... Ah well , at least there is Whitless in 2 weeks.. the dance tent seems to be a "rock-compatible" one though.. and 60/120 euro for 1 tent of interest and a LOAD of ropey bands is taking the piss.. If this is an attempt to satisfy the dance community, it`s not good enough.. We require our own festival and we will have it.. regardless of who or when, we will have it. No token bunch of mime-artists of yesteryear sandwidged between guitar crap will do.. We all know how horrific the sound of a guitar/voice combo is when you are not in the mood.. and NO amount of stout can put me in the mood for that when what i really want is a homefields.. in fact FORGET cream & home (both now no longer clubs as we knew them..).. how about GREEN-FIELDS? we can do it. Especially with NO competition! Unless you class a bunch of cat-gut/beard stroking bad-vibe peddlers as competition.. Grr!! Slane me bolix! Wetness my arse! er.. except for NO DOUBT, BETA BAND and er... er.. ehm.. REVS, that is... hay.. why don`t we just get them to play in their own tent at GREENFIELDS? Then the rock heads would come to the Dance festival cos there are some rock acts on somewhere on the day??? ARE YOU LISTENING TO ME? AM I MAKING ANY SENSE HERE? exactly.. nobody in the rock crew would bother their denims for such a paltry offering.. they wouldn`t be fooled.. and neither will we.
Give us our own festival, DJs and Decent Acts, or loose your grip, because someone else WILL.
==240602
Now then now then (as Jimmy Saville would have said..) And so the summer is failing miserably.. No sun.. no fun.. just grey sky's and ECMs.. I can confirm that Ibeefah is a flop so far.. Testament from a spanish mate i have that summers there for a bit of light work/holiday and it is fact - hardly any of the messing usually associated with Ibeefah is going on.. very little flyering.. few special events.. none of the fanzines and guides usually distributed on the island.. hardly any fighting in the west end.. good lord.. what happend? So.. i suppose it`s down to me to make sense of all this depression and destruction as usual.. OK, it`s like this.. What's going on now is a CULL. That's right , a CULL.. for FAR to long people have been telling themselves lies and believing them.. Big clubs, silly labels, ridiculous ideas WAY above their stations to be honest.. I think the crunch came when UK-PROGRESSIVE became the flava.. i knew we were in for a dip when that happend.. You see, far back, in fact the 1st night i played in the UK (`97), i remember bieng BORED SHITLESS by a room running the "rennaissance" sound.. really bad and tense intro's and no point, no happiness, no energy, just piss & cocaine-soaked trousers.. So "PROG" was nothing new to me, in fact it was smelly old-hat.. i suppose after the excess of the 'crasher-kids and trance, prog seemed "intelligent".. but sadly, bullshit like that, and the releases, clubnights, tours and so on have put a BIG dent in the club scene.. The important point to remember is that the BIG players, the Leading label-stables and Publications & production companys all embraced "the next big thing", which was to be PROG, and it went wrong!! they broke the golden rule of "Believing your own bullshit" and went off on a (progressive stylee) journey into nowhere.. they forgot to check the punters.. the consumers.. sad. This CULL will chop away the fat, do away with the unhealthy and bloated and leave the lean and mean to face the future.. expect to see more established names dissappearing from out radars soon.. Those that have a REAL love of music will go on.. because they have no choice.. they are compelled to go on, for it IS what they do.. they don`t care if it's cool or not, they just live music and don`t care who is looking. You know the way you may have heard or seen some largely-hyped DJ/act/tune in the last 18 months and (possibly been afraid to even say that) you hated it? It bored you? Well, watch closely... they just might disappear altogether.. This last 18 months has seen Massive closures of Clubs, Labels and shops.. DJs have simply dissapeared from the circut.. Pirate stations have melted, publications have changed or folded.. People that were all over the place are gone now too, just as quickly as they appeared in the first place - proper order! And so say all of us. Goodbye you messers. See you all next time round.. Maybe then you`ll contribute something instead of holding up a magnifieng-glass to the first thing you come across..
Welcome to the birth of the 4th Dance scene.. R.I.P. the 3rd Dance scene - Killed by progressive house and cocaine.
Weekend Playlist for Mr.Spring`s Show on 2FM's 6:2:6,
(
www.2fm.ie/626
) TX: 220602/20.00-22.00
20.00:
Firen` Squad, Squaddies: Toni O'Leary (mixit), Dean Sherry (Fight the Power), DJ7 (dot net).
*raven maize/fascinated -rulin - 52%
rulin27p1/wri:lee & francard//ministry of sound & universal music
*solid sessions/janeiro -positiva - 69%
12tivdjx175/no details
www.positivarecords.com
*dj gert/gimmie some more -y2k - ((2(-infinity))-(101.5/3)) (double minus infinity - 101.5)
y2k031r/wri:rossenbacker & jordens//echohead music
*haifa/unbreak my heart -w10 - (-infinity) (minus infinity)
wten009tx/wri:diane warren//universal music & cop con
*intenso/love the sunshine -inferno - 26%
djfern47/details for "10cc's dreadlock holiday" & cop con
www.infernorecords.co.uk
*point 4/the first time -bmg - 8%
point01/wri:sherman & dyson//ministry of sound
info@point4productions.com
21.00:
*drugface/cu*t master - uberdruck ued05
www.ueberdruck-records.de
*x3 vs. francis goya/rain (the guitar song) - roadrunner 23.206486
jo@roadrunnerarcade.be
*teutonica/die sunde - zyx nos1000-12
www.zyxmusic.com
*dimas & martinez/house lights - beatfreak bf018
*olav basoski/samplitude vol.11 - superstar superdj 2043dmd
*ben shift/N.A.M. - MD 0103
www.resolutedistribution.com
*dj tom-x/cocaine - fog area cases18
www.fogarea.de
*target/harder they come - tracid traxx ttx2037
www.tracidtraxx.de
*blutonium boy/trancin' your mind - blutonium blu-049
www.blutonium.de
==220602
I heard a rumour that Ibeefah isn`t very good so far this year, well it _is_ early for such declarations.. but when i hear that some Journalists have been offered 5-star hotels and full "party-priviliges" to cover this year's fun & frolix, i wonder.. maybee they are getting a bit desperate? I was given (notice how i pretend i didn`t buy it..) a copy of the travel section of the TELEGRAPH today because they had a (count em') 4 page special on ibeefa.. the scribe even points out he isn`t a clubber at all, and that ibeefa/clubbing isn`t the realm of the clubber anymore but for EVERYBODY.. ehm.. hello? hellloooo? In the HOLIDAY section of one of the world's leading broadsheets?? yes, i shit you not, under the wise guidence of a rep from one of the british clubs present there, he discovers the joys of "jumping up & down with my hands in the air at 5am" and declares it`s the holiday for the POSH and COOL.. He even points out his bird isn`t a clubber and she loved it, and they only necked their hay-fever madicne, no illegal ***** at all!! San-tropez and Monaco are in the bin, and Ibiza town is the new hangout for arabian princes etc.. well.. there you have it then.. sell your villa in france, rent a 5-star room in ibeefah town for only 450- UK a night.. riiiiiight... I`m there dood.. So what does this mean to YOU? Sounds like the last actions in a desperate situation to me.. They seem to have decided to try and attract a richer,less monged clientele this year.. Maybe the clubbers have grown tired of it all.. or maybe they don`t like having the piss taken on prices!! ..as the "guide" pointed out (3rd hand of coarse..), "Don`t come here unless you are prepared to drop 2 grand sterling a WEEK..". With entry to clubs hovering around the70 euro mark, and drinks at the 12.50 mark, he speaketh truth.. especially if you want a room that isn`t open to all, which will cost you 700 euro a night!!!! Simple answer - it`s too fuc*ing expensive.. Just get a compilation CD, a bag of moddling sand for the sitting-room floor, and stay out extra late, much cheaper, and you avoid dieng of heat exahaustion in the airport lounge, bieng followed home by travelling horrors, loosing your mind, getting the squits, getting an STD and, getting RIPPED OFF.. Hey, why bother your arse when a long weekend in dublin staying in THE CLARENCE or some equally excellent _real_ lux-calss hotel, together with train-tickets and guarenteed class-clubbing (as late as 5am now!) with copious amounts of freaky food and gargle will be cheaper.. (don`t mention the sun now...)
==200201
In 1982 the FUNBOY 3 did a tune called "The more i see, the less i believe" on their 2nd album called "waiting". FB3 was fronted by Terry Whatshisface, out of the colourfield and the specials, so it was moody stuff to be sure.. I suggest you all track the track down and give it a listen. 20 years ago and all that, british, unfortunatly, but misfit to the hilt.. and in light of lastnight's Panorama (BBC 1), fitting.
Today the 25th Anniverdary Issue of HOT PRESS hit the newsstands.. i had been purposly not buying it recently to see if the people that always read my copy go out and buy their own.. they didn`t, so i had to submit to a FAT issue.. full of incestious back-slapping and VERY amusing photos.. Highlight: The attempt to rope the dance scene into the event by doing some sort of "best dance tracks ever" article.. very sad indeed.. so sad it wouldn`t have even constituted the playlist of a free "classics" CD on the cover of a dance mag.. totally cobbled view of the scene. i mean.. naming utter shite like PLANET ROCK as a classic? what bollocks.. they obviously never listened to it.. how DARE they site Kraftwerk's T.E.E. as worthy of inclusion BECAUSE it was the inspiration for planet rock - planet rock is SHITE of the highest order, a child with no intellectual capacity and no musical skills whatsoever could do better.. sad sad sad.. but this is all made up for by the AMAZING selection of snaps from the past.. Personal favorite: Dave Fanning with a forest of hair on his mush - he looked like a black q-tip with eyes..!! Hahahahah. Now don`t ANYONE ever slag me about my hair in RTE again.. because there is more, oh yes.. lots more.. The 25th Annivarsary Issue of HOT PRESS is available now, and you are required to buy it.
==190201
"Brainarse". A new Word for the bit of your brain where the old/boring/embarressing/irrelivent memorys congregate before bieng ERASED.. or "dumped" if you like...Nothing to do with "Arsebrain" which is a person with the brain capacity and function of your average arse. Anyway. The "Brainarse". This is where thoughts Gather into the unit of Brain-shite, THE DREAM. Now all of this happens daily.. like a real poo, you may notice your dream, you may not. It may happen when you are having a perticularly boring phonecall/lecture/meeting, or it may happen in that special extra hour's sleep you reward yourself with, resulting in you waking up during it and REMEMBERING the dream - Constipation, or retention, either is good as a meta4, but either way, your brain didn`t get to dump properly. So what happens to the bits that didn`t get ejected? Surely they get added to the stuff that's building up (even as you read this..) don`t they? to make the next dream? Nope. I`ll tell you where the useless thoughts go.. they ESCAPE. They surface when they think they can get away with showing their faces again without bieng promptly expelled in a retro-tinged dream (it happens..).. The trigger for these resurfacing incidents (deja-vu, smells etc..) can be the most irrelivent little thing really.. usually as irrelivent as the original thought itself,which is nice, cos now they can be friends in the Brainarse. Maybe even escape together. Or Form a band.
Anyway. Power updated his script. And i did a Looong session.. all monday day, 45 minutes break, then all night. Then back in for a tidy 2'zday. Very happy when i left, but i broke a golden rule, i block-sessioned, so i expect after the punch-drunk haze of the experience wears off the track will be shite. Well, when i say shite, i mean it'll all make sense used in the same situation in which it was created, in a dark room for 36 hours... er.. But that may be it`s saving grace in the end.. You never know.. Liquid wheel are visiting today for a bit of an aul throwdown of their "ryan's papa" track through my desk & chain.. should be painless, they have an emu sampler like me, and a decent MIDI file, so it _should_ be painless.. i hope so, it`s a great track.. glad they are writing still!!
Weekend Playlist for Mr.Spring`s Show on 2FM's 6:2:6,
(
www.2fm.ie/626
) TX: 150602/20.00-22.00
20.00:
Firen` Squad, Squaddies: Gar Skelly (not on TV), Ted (DJ), Mark McCabe (in extra time).
*klea/tic toc -incentive - 39%
pbah4/wri:diamond giza//incentive music
*alive feat. dd klein/alive -serious - 37%
alivedj001/no details//cop con
*drive red 5/the pleasurist -distinctive - 36%
no details
www.distinctiverecords.com
*dee mark/seven days & 1 week -fog area - 5%
fog048/wri:quartier & top//emmanuel top editions
www.fogarea.de
*dj ****** feat. suzanne palmer/643(love's on fire) -nebula - 54%
vcrt106/wri:******//allure muzik & suzanne palmer music
www.dj******.com
*narcotic thrust/safe from harm -ffrr -30%
pro3291/no details
21.00:
*olav basoski/samplitude vol.11 - superstar superdj 2043dmd
*dimas & martinez/dream drums EP - beatfreak bf018
*mac & mac/wicked & wild - jinx jxh710
*airbase/clubpoint - goforit gofo0286
www.alphabetcity.de
*pyra/humanoid - noname nn4022
*thomazz/work me - ftw 23206056
*vdp project/red & blue - earcrash 23205966
*abel ramos/quarzo - md md0105
www.resolutedistribution.com
*art of trance/madagascar - plat102x
www.platipus.com
*beamer boy/on my way - impetuous ims018
impetuous@warnermusic.com
==140602
Nasty Rumour of The Week: Clubbing.com has Shut!! I knew this week had been quiet.. "A little too quiet.." Well, i used my secret privilge of a phone that remembers _all_ calls it`s ever recieved and rang.. Yep.. The Mag is gone People.. Looks like the Ibeefa Excursions could be gone too since they were a mag thing.. God. Er.. I'm not exactly too bothered about the Ibeefa thing really due to my (twitch) thing about the (shuffle) plaaace.. But the mag going is shit of a pity.. I gather the crew have been smart enough to get out with some of their bollocks' still attached as well, which is nice.. Anyone familier with the chequered history of the Irish scene should remember all the times People have not only lost their bollocks, but also forgotton where they last saw it.. I'm sure it won't be long before they are refreshed enough to rejoin us in the swamp again, perhaps with different hats on? Well, i wouldn`t blame them for running away from the scene as fast as they can right now, but it think we'll see them again soon after a well deserved Severe-totalfrontallobotomy-All-time-Winner-Once-in-a-lifetime-UberBender and some furious thought process.. Sorry lads, really. It`s a shait of a pity, but don`t give it up,get back up,keep pushing towards that goal of totalglobaldomination.Life is just a man from U.N.C.L.E. episode.You'll see. The poison wasn`t real, it was only a deception! You aren`t actually dead, just in suspended animation, and after they bury you, well come along in the dead of night, dig you up and inject you with the ANTIDOTE, and you`ll wake up!! Let's hope they don`t sew up your arsehole.. or embalm you, that's a bitch of a hangover embalming fluid.. jeez..
==120602
So what about Eamon? Exactly.. You have it now. God bless rough diamonds. DARREN FLYNN has landed in the UK, check out his new hang-out.. here..
==110602
Eamon Dunphy. (need i say more). Power updated his script..
==100602
Weekend Playlist for Mr.Spring`s Show on 2FM's 6:2:6,
(
www.2fm.ie/626
) TX: 080602/20.00-22.00
20.00:
Firen` Squad, Squaddies: Jay Cisco (sand sales), Leonie (lustfull), Zoe (indeed),Derek Carr (2good), Scott McNaughton (beermonster)
*the beginnerz/reckless girl -cheeky - 48%
74321-942231/wri:gelber & benard//music sales corp
info@thebeginerz.co.uk
*luke slater/stars & heroes -mute - 49%
pl12mute272/wri:slater & barrow//mute song & cop con
*miss dynamite/it takes more -polydor - 61%
570-798/wri:dynamite & punch//no details
*wine pastilles -maynards - 27%
[new hybrid of winegums & Fruit Pastilles]
*dj hooligan/hear you now -impetuous - 31%
084909220/wri:tomiczek & schott//edition W.A.O.F.
www.hool.tv
*the clergy/oboe song -ffrr - -2% (minus 2 percent)
CDRoboe1/wri:masterson & o'riordan//cop con
21.00:
*space frog/follow me(derb) - sony ger. dad6727008
www.dancedivision.de
*headquarter/pumpin - zyx bft033-12
www.bigfoot-records.de
*kai jaxx vs. hyper/reset your mind - blutonium blu048
info@blutonium.de
*blak twang/so rotton - wall of sound magiccd5
www.blaktwang.net
*krs-one/struggle continues - koch koc-cd-8363
www.kochentertainment.com
*the streets/give me my lighter back - locked on
www.the-streets.co.uk
*indeep/last night a DJ saved my life - becket records spec1508
*mac & mac/wicked & wild - jinx jx-h-710
www.bpmdance.com
*brooklyn bounce/loud & proud - epic dad6726946
www.brooklynbounce.com
Mad but bleedin' Obvious news broke today.. It`s a roundup of the percentages of stolen/unlicenced/unregistered gear doing the rounds on people's Pee-Cees..! The Piracy rates for Western Europe (2000 and 2001) are: Austria 37% 33%
Belgium/Luxembourg 33% 33% Denmark 26% 26% Finland 29% 27% France 40% 46% Germany 28% 34% Greece 66% 64% Ireland 41% 42% Italy 46% 45% Netherlands 40% 39% Norway 35% 34% Portugal 42% 43% Spain 51% 49%
Sweden 35% 31% Switzerland 34% 33% UK 26% 25% .. notice how we Irish are steaming ahead with the theft while the brits are slipping with the swiss and the Austrians? Nice to see the French,Germans and Portugeuse upping their Quota and not taking any shit from the vendors!! .. now before you get all upset at this.. have a think.. How many times has your PC let you down? Yeah.. exactly.. i wouldn`t feel too clever if i had paid 2 grand for a PC, then another grand or so for software to have the whole thing simply not work.. If you had a car that randomly broke down (especially at high speed) and required you to get out of it, siphon the petrol out, leave it to sit and then start it up again 3 or 4 times a week you'd CERTAINLY not keep it.. would you.. So ENUF! Make the stuff reliable, then we will feel guilty.. Here`s one for you to think about.. If you activly take on a maintanience contract with a PC maker.. or pay for regular updates to your software, YOU ARE ACCEPTING THAT IT WILL NEVER WORK. Think about it.
Top 10 countries with the highest piracy rates are (in rank order):
1 Vietnam 97% 94%
2 China 94% 92%
3 Indonesia 89% 88%
4 Ukraine/Other CIS 89% 87%
5 Russia 88% 87%
6 Pakistan 83% 83%
7 Lebanon 83% 79%
8 Qatar 81% 78%
9 Nicaragua 78% 78%
10 Bolivia 81% 77%
==060602
New tune on playthatbeat.net for you all.. 3rd internet-only release from Spring.. It`s a mindless bashing looper that is Excellent for playing eppie-games like .:RoBoTRoN.2o84:. it`s also a trainspotter's paradise, as long as you have been into the scene for at least 6 years that is.. but it DOES go deeper, about 30 years deeper!! Check it out for a chugging-crunch of a Download, and DO feel free (as always with stuff you pull from playthatbeat.net) to spread it about to others less cool then yourself... New Issue of CLUBBING.COM is on shelves.. Don`t have my complimentary copy yet so i cannot comment as to it`s content.. but it should have further evidance of the alleged trip to Ibeefah innit.. Thing is though, with the way things are,to save money, i could PRETEND to be on holidays in Ibeefah by :Sitting on the DART for 5 hours, Locking myself into the house with the Heating on Full-Blast, eating badly prepared Snackfoods, Pissing in my own Cocktails & Leaving a ghetto-blaster on full-bass under the stairs pumping a dance-compilation 24hrs a day!! All i need to complete the picture is someone to burgle my bedroom or follow me from the kitchen late at night to install that "FULL Paranoia" salad-dressing on the whole event..It won`t be the REAL ibeefah experience without Pissed-up brits and scanners fighting about football, but if we get hammered in the next game, it could pass.. (fnar fnar)
Heavy Construction on the RELEASES page.. I`m trying to do a discography and any contributions are welcome.. I Know i`ve forgotton loads of stuff.. so .. have a look anyway..
==050602
So.. We Gave the Germans A Fright Did we? Makes a change.. Ehm..

Now to something a bit more serious.. Yesterday There was a Sneaky EC vote behind our backs about "data protection rules".It gives the green light to member states' governments to pursue "intrusive legislation on monitoring public communications".So What?Well, the Government and law enforcement agencies will be entitled to monitor whoever they suspect of bieng involved in "terrorist activitys".When You make phone calls, send emails, they can be recorded and stored.. When You surf they can record which Web sites You visit. From mobile phone records, authorities will even be able to track Your movements. The UK government was quick to dodge Civil Liberties groups by claiming that monitoring will be limited to targets suspected of "terrorist activites" only. Authorities will still need a warrant to view the content of such communication, it is claimed.So. What do you think? Happy with this? Well, with all that happend on & after 9/11, it`s probably a valuable addition to the Spook's Arsenal.. But it's VERY messy stuff indeed. Who is going to store all this Information Untill it`s "Needed"????? Where? Who's to say it cannot be altered? You do of coarse realise that as of TODAY there is no more privacy on the Internet. At all.
==040602
Power updated his script..
Top 20 Springnations May 2002:
1 Ireland
2 US Commercial
3 United Kingdom
4 Japan
5 Denmark
6 Belgium
7 Germany
8 Singapore
9 Finland
10 Netherlands
11 Switzerland
12 Portugal
13 US Educational
14 Italy
15 France
16 Australia
17 Canada
18 Spain
19 Mexico
20 Saudi Arabia
..and they all ganged up to Make 17125 Hits over the month.. Once again, thanks! ..and to improve things a bit, all our downloads will come via Playthatbeat.net from now on.. Some of the files are still hosted here, but any new additions will be on playthatbeat.net.. givin the current slide in internet usage due to crap services,exams and the world cup.. i`m delighted to still have ANYONE interested enough to click this way!!
Saturday night was SOUTH in tramore.. I have never seen the place before.. so driving down to it in a lightning storm was an impressive first introduction! A large modern concrete & glass monstrosity, lit from below, backed with a black velvet sky punctuated by Hollywood Lightning effects!! The Bolts looked real cool, but actually managed to make the night go a little sideways.. on 2 occations we had a full-scale "brown-out", the angry sky enuffing out dancing.. and on the 2nd strike (who said it never strikes 2wice?? spoofbag!) mother nature erased the lighting computer to my left.. ah well. So besides falling out of favour with the god of thunder & his m8 mr. lightning, what WAS the script i hear you screach!! Yep.. not bad, as a venue. It looks, feels and sounds like a shopping mall/giant car showroom/leisure bowl.. Very boomy and hard-surfaced, so there wasn`t any soundstage as such, just sound. The incredibly high cieling does the main area no favours and the abundance of glass and hard stone surfaces makes the place feel like an airport.. I think you could put a thousand speakers in there and it would make no difference, wishy-washy sound. They layout is nice.. some split-level tribes formed, and the bar was in full (bright) view of everyone.. The DJ area was large and high-up, with ample space for cat-swinging. Decks (3) were Mk2s, Concorde heads (pity), Mixer was one of those Shitty Allen&Heath things.. (god what a shame), monitors were excellent and Pioneer CDJs completed the arsenal.. The crowd were Super.. They made a strange night into a good night.. Very vocal, and after POWER battered them for 90 minutes, they weren`t taking ANY prisoners. Even when i approached the agreed 3am curfew and had my FOH killed, they rose to the challenge of Dancing to my Monitor-Speakers.. I seem to remember this Technique of Killing the PA before the performance has ended from some other (so-called) club, let`s hope it was a misunderstanding... The night itself was part of a Trio.. Laurent Garnier on Friday, Me n Power on Sat and Rojer Sanchez on Sunday. Tickets were 10 euro for just us, or 13 for Us & garnier or 16 for Us & Sanchez. (or something) Dirt cheap. Basically we were the free bit, cos if you held a ticket for either of the other nights you got in to us for FREE! Now this was a KILLER idea. I like that. Alot. Thank you for having us.. really. BEST BIT: Shouting at the Sky on the way home.. "Come on you lame fuc*er!! Call yourself an electrical storm!!?? Are you sent by the Creator? Where is he? He's not worthy of the name! I couldn`t reanimate a lemon with this activity!! Give me a reason to fly my Kite!! (etc..)"
==030602
Weekend Playlist for Mr.Spring`s Show on 2FM's 6:2:6,
(
www.2fm.ie/626
) TX: 010602/20.00-22.00
20.00:
Casual Bank-Holiday Firen` Squad,Squaddies: Gav Collins (flush bus), Phil Boyle (influxer), Pressure (dezRez).
*art of trance/madagascar -platipus - 56%
plat102x/sri:berry //pineapple music
www.platipus.com
*prodigy/baby's got a temper -xl - 11%
xls145cdp/wri

rodigy//warner chappell
www.theprodigy.com
*the streets/weak become heros -locked on - 65%
679003cdlp/wri:skinner//pure groove
*sinead o`connor/troy -devolution - 5%
devr003xp/wri
'connor//cop con
mailorder@devolution.freeserve.co.uk
*sebastien leger/victory -defected - 63%
dfect54//no details whitelabel
*the mook/now & then -eukahouse - 73%
euho043-6/wri:jeely//cop con
mooksmusic@ireland.com
*john "julius" knight/dancin' in paradise -spectrum - 55%
spec04/wri:small & cunningham//salsoul music
jreed@defected.co.uk
21.00:
*dynamic tension/ebony & irony - spring sli11002
*kluster/i feel love - whitelabel sti001tp1
*layo & bushwacka!/love story - xl xlt144dj2
*aquanuts/deep sea - data 34t
www.ministryofsound.com
*brooklyn bounce/loud & proud - epic dad6726946
www.brooklynbounce.com
*merlyn/stracheldraht - tracid traxx ttx2036
www.tracidtraxxx.de
*arome/hands up! - overdose dmd dose093
www.overdose.de
*space frog/follow me(derb) - sony ger. dad6727008
www.dancedivision.de
*mikado/no sleep - propeller pro020-6
www.djmind-x.com
==010602
Apparently, the script with THE MATCH and PUBS goes like this.. (special request for our foriegn springers..) Because the Ireland vs. Cameroon Clash is on at 7a.m. here, the PUBS are allowed open for bizz.. There are a few strange conditions to all of this behaviour, and rather then bore you with a list that you`ll have to go to the trouble of ignoring, here's our guide to how to do the match.. Do everything in this exact order to ensure your fullest enjoyment and the best chance for our boys in the trenches... * Arise at 6.45a.m. and leave for the pub. * Drink Coffee, 4 if filter, 8 if Instant. * Add 1 x "Breakfast Roll" and be brief, the match will be starting and you`ll need your mouth for shouting and drinking. * Order a coffee and make sure you have a good stock of Fags while you are at it. Smoking is compulsary and is required in reverse-proportion to our team's performance. Don`t make me come over there.. etc.. * At first sign of trouble, leg it to the "special" bar (actually a special temporary "national emergency off-licence-licence" for the event) and purchase a bottle of Traditional Irish Psychic-Projection Fire-Water. * Drink it in the carpark as quickly as you can, saving just enough to top your coffee-cup up a bit. * Return (an masse) to Your rightfull positions infront of the Tube and assume the Celtic-Tribal Circle of Meditation Position. * Repeat the Above 3 untill "real" opening time cancells out the need to use the carpark. * Apply even more Fire-Water. * Attend mass for the first time at midnight to prey for the infestation of the german team's pubes with burrowing cyborg lice. Please remember results mean nothing in all this.. It`s all about getting Shitfaced infront of the telly with your mates and watching Ireland make fools of people who take the game a lot more seriously then we do.. For a Month. So go to it. One thing though.. Don`t forget your sunglasses. All that green is hard on the eyes..
Ah.. And if You fancy more footy-shenanigans, i`ll be torching: 2 copies of ANT & DEC's WorldCup Theme & 2 Copies Of THREE LIONS in a steel wastepaperbasket in the carpark of SOUTH tonight Before i play. I may add a Lifesize cardboard cutout of SAMANTHA MUMBA into the mix too if it feels good. Depends.
Ahh.. FRIGHTFEST is on again this year.. Now i REALLY mean it this time. We are going. All of Us.