==270805
Ok, so i managed to avoid Kim Wilde And Wendy Carlos last night.. I DID have the "switched on..." Collecton with me, but couldn`t fit it in anywhere without it sounding cheezy.. i guess we will have to have a study of more serious MOOG applications some other time.. Maybe on Bob's Birthday, or Anniversary.. Or Something.. Anyways, you can hear the Show here and the playlist goes like this..
Playlist for the Spring Special on 2FM.
TX:26-08-2005
22.00-00.00
*beach boys / good vibrations (... nice theramin work.. apparently an inspiration to bob..)
*donna summer / i feel love (..giorgio bangs out the sequences..)
*ultravox / sleepwalk (..the first really "tight" moog-assault i heard.. bought the single.. rocked my dansette..)
*ultravox / all stood still (..while we are on the subject of ARP vs. MOOG...)
*visage / in the year 2525 (..rare early track that just spells out "FUTURE" loudly with alot of X-Mod..)
*emerson lake & palmer / fanfare for the comman man (..gotta have kieth.. even in "L.C.D." mode..)
*alan parsons proj. / i robot (..lush ain`t the word..)
*bbc radiophonic workshop / dr.who theme (..get it into you..)
*hot butter / popcorn (..you love it you slags..)
*gary numan / cars (..bring forth the chopper my man...)
*tubeway army / zero bars (...prequal to "cars"?..)
*robert palmer / i dream of wires (..another funky robert we miss already, pouring on the sentiment expressed in "2525" above..)
*eurythmics / love is a stranger (..8 track, moog, lentils, rice, annie, dave..)
*the commadores / machine gun (..yay! who cares if it was or wasn`t a MOOG? it sears like one..)
*jean michel jarre / magnetic fields II (..you have to admire him going all that distance with his TAURUS - they weigh a tonne!..)
*vangelis / 12 o'clock (..genuine tears..)
*steve hillage / garden of paradise (..and yet more...)
*devo / going under (..no pun, just liberations all-round..)
*atmosfear / dancing in outer space (..loose and alive..)
*jean jacques perrey / e.v.a. (..yep, a gimmick, but a good one..)
*dick hyman / the moog and me (..speaking of gimmick..)
*the flying lizards / money (..another gimmick sir?..)
*sarah brightman / i lost my heart to a starship trooper (..you durty biiiitch... zZzzappp! whoosh!)
*depeche mode / newlife (..punch through the crap..)
*the monkees / star collector (..go mickey.. go mickey..)
*kraftwerk / autobahn (..the lads.. pictured with 2 MINIs on stage on the sleeve.. in fairness..)
Ah yeah.. Great machines.. In my time, i have owned / stolen / borrowed / tortured the following MOOGs.. 12-stage Phazer - lovely, but noisey phazing thingy.. Lasted about a week before bieng sold on to pay for itself.. Prodigy - never worked properly for me, had suffered serious rust damage by the time i saw it, but later i hear was restored, and is fully working now in the hands of it`s original owner.. i think it had no Interface capability! odd... Rogue - Always worked perfectly, used on lead-lines in the Sound-Crowd days.. Very simple to use, and not a very broad palete of sounds, but so stable and reliable.. Source - My first MOOG, had the regulator fault, so went mad alot, but was so fat and meaty, it got used at every oppertunity, most notably LIVE.. still sitting in John B's ex-wife's wardrobe in bits awaiting repair, complete with the last remaining Diagrams and Service manuals.. (sigh).. Mini (rev D), had a micro-tuning Mod on 1 OSC, so had major Phatness-detune capability - sadly, i sold it to finance purchace of my Current Moog-Clone - a STUDIO ELECTRONICS 1, which is a nice stable Mini in a rack, with memories.. (lazy boy huh?) Has been 100% since i bought it. And lastly, my pair of MemoryMoogs.. Bought both of them as dead-units for parts, - both had alot of things removed from them already, and both failed to ever work again.. They got sold on for, yes, you guessed it, PARTS.. (sigh) MoogDrum(?) think this was an addon for the Modular, it never made any noise of it`s own, for me anyway.. I have no idea what happend to this unit, and it may have been stolen at a gig.. MOOGs i got to play with? Had a brief encounter with a TAURUS II pedel set as a kid - my god it had a low-end range to die for.. One OSC went down to 2', or was it 4', whatever, it was KNACKERING to play with it`s mad organ-pedal board

And i have had a few lost hours with the recent MOOGerFOOGer pedal thingy - surely the best way to make your fake-analogue machine sound real

==260805
They loved thier MOOGs.. Tim Blake, Tomita, and T.O.N.T.O.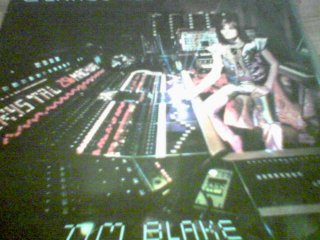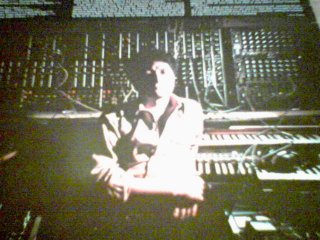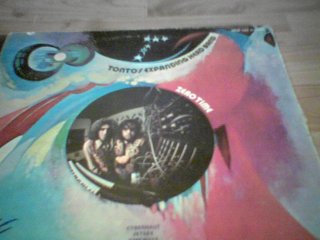 ==230805
Bob Moog passed away on Sunday.. I posted in the Forum about him, and i hope we all have the time to spare a thought for him, what he achieved, the trends he set, the ability he bestowed upon us with his creations, and his sometimes bumpy, but always interesting life.. Bob's creations were always, above all, PLAYABLE.. Other manufacturer's machines may have had more features, more knobs, and more bells & whistles, but none inspired the musician to PLAY like Bob's did.. You only had to start fiddling with one of his creations, and you were off on a journey of discovery

This friday i am Covering for Dan on 2FM, from 10-12pm, and i intend on playing MOOG tunes for the 2 hours as a little sendoff for Bob.. Expect everything from Wendy Carlos through Kim Wilde

So, c u den...
Thursday nite sees me in TUAM for some reason.. Mmm.. Tuam..
Playlist for the Spring Session on 2FM.
TX:21-08-2005
00.00-02.00
*hell pres. my definition of house pt.2:Phuture / rise from the grave (international deejay gigolo records cdr)
*dylan rhymes / fashion kills [metric] (kingsize cdr)
www.kingsize.co.uk
*yunus guvenen / fever (bedrock records bed61)
*royksopp / 49percent [m.a.n.d.y.] (wall of sound walld107xpr)
*richard grey pres. luv booty foundation / in love (illegal beats jalill20)
*one hit wonders / grace of god (gusto pr12gus20)
www.gutrecords.com
*dj cosmo / ringed world (white kick145)
*oliver klitzing / yeah (headline 0043)
*armin van buuren / control freak (armada 039)
www.arminvanbuuren.com
*fred baker / total blackout (magik muzik fbi001)
www.fredbaker.com
*fred baker & vincent gorczak / little star (a state of trance asot 044)
*kissed / arc in the sky (discover dark 04)
www.recoverworld.com
*mark norman / teardrops (in trance we trust itwt378-5)
www.mark-norman.com
*dj the crow / got ya (uberdruck 025)
www.djthecrow.de
*max b grant / open your mind (blutonium blu94)
www.blutonium.de
*human resource / dominator [lars] (edm 098)
*double99 / rip groove (icecream records moscd93)
==180805
3 New files on PLAYTHABEAT, and Now the UNREAL TOURNAMENT 2003 server Serves 100 Maps

Yep.. been busy uploading stuff..As you do. I also made a Ringtone File Of some SCARY EIRE, which you can attempt to send to your fone and marvell everytime it rings

Hit the DOWNLOADS now.. Lol..
Playlist for the Spring Session on 2FM.
TX:14-08-2005
00.00-02.00
*funk harmony park / planet p [porter] (fds recordings fds-006)
*dylan rhymes / fashion kills [metric] (kingsize records cdr)
www.kingsize.co.uk
*fort knox five / brazilian hipster (jalapeno jal31)
www.jalapenorecords.com
*hernan cattaneo & john tonks / warsaw (bedrock breaks bb09)
*late night alumni / empty streets (hed kandi hedk12013p)
www.hedkandi.com
*tony moran / love you all over (beatfreak bf 036)
*dj cosmo / ringed world (white kick145a)
djcosmo@europe.com
[lock]
*faithless / insomnia [sasha] (cheeky 30)
*cosmic gate feat. jan johnson / i feel wonderfull (maelstrom maelt b40)
*mauro picotto / the lizard 2005 (nebula nebt074)
*mauro picotto & fergie / funkytek (alchemyalc007)
*fred baker / total blackout (magik muzik fbi 1001-5)
*yakooza / i wanna feel [scot] (traffic tunes tt001)
*re-create / fight club (dedicated ded 016)
*d-light & bissen / like i do [john o'c] (deep dive deep002)
www.excellent-records.com
*masif dj's / cafe del mar [d10] (masifsampler0)
www.masif.net
*the wall / bad deal (captivating tunes cas 024)
*raf / weve got to live together (pwl pwlt218)
==140805
Bad news if you are using a <56k connection to the internet, and regularly use the SHOWS archive here.. I have dropped support for anything less then 56k, as it simply isn`t worth the grief, for the 20 or so streams a month that are served at that speed.. From now, you need a minimum of 56k to stream a show live.. if you have a worse connection that this, i DO hope you aren`t paying for it, as it isn`t worth a shite

As you know, ELECTRIC NITPICK is coming in september, and Bodytonic are having a Dj Stand-off to see which lucky DJ get's the chance to play their stage during the proceedings.. You can help make history now by hitting
http://www.bodytonicmusic.com/forum/viewform.php?f=11
and adding your opinion to the mix.. There are a few familier names in the running, so i leave it to youz to work out which one deserves your attention, and has the best chance of actually DOING something with the oppertunity...
==120805
Playlist for the Spring Session on 2FM.
TX:07-08-2005
00.00-02.00
*funk harmony park / planet p (fds recordings fds006)
*luke walker / alias (underwater h2o 070)
*lee cabrera / i watch you [mac] (data cdr)
*dylan rhymes / fashion kills [metric] (kingsize cdr) [lock]
*seyton / the drake equation (heavy rotation hr007)
* who's who? / not so dirty (size011)
www.sizerecords.com
*tony thomas / drumatikal (you c23010)
www.carlcox.com
*tony moran / love you all over (beatfreak bf 063)
*faithless / insomnia [sasha] (cheeky 30)
*randy katana / pleasure island (reset rs014)
www.spinninrecords.nl
*lange vs gareth emery / this is new york (lange 009)
*mauro picotto / the lizard (nukleuz nebdj074)
*dj the crow / got ya (uberdruck ubd025)
www.djthecrow.de
*thomas trouble & blutonium boy / alarma (blutonium blu095)
www.blutonium.de
*the prophet / emergency call (qdance.nl q031)
www.qdance.nl
*a-force & yahel / behind silence (fundamental fun519)
www.fundamentalrecordings.com
*dream frequency / feel so real (white label dateline 8.11.91)
Playlist for the Spring Session on 2FM.
TX:31-07-2005
00.00-02.00
John Power in 4 Spring....
12 - 1
Mylo Vs Miami Sound Machine - Doctor Pressure - Breastfed
Wahoo - Shake It - Original Mix - Defected
Deep Dish - Flashing For Money - Positiva
Max Graham - Automatic Weapon - White
Sander Kleinberg - Fruits - Ivan Gough & Grant Smillie Mix - White
King Roc - How Big Is It - Kingsize
Goldfrapp - Ohh La La - Tiefscharz Mix - White
### James Zabilela Interview ###
Technotronic - Pump Up The Jam - White
Frez & DJ Flash - Air Trip - White
Artist Unknown - U Make Me Want To Be A Man - Tom Neville Mix - White
Timo Di Roy - Dont Stop - White
1 - 2
Masters At Work - To Be In Love - Tiefscharz Mix - White
Deep Face - Been Good - Ivan Gough & Grant Smille Mix - White
Armand Van Heldan - Hot City Nights - White
Dave McCullen - Bitch - White
Slacker - Goddam Noise - White
### Dave Clarke Interview ###
Hatiras - Unknown - White
Unknown - Unknown - White
==040805
Sessions This Weekend
August 6 lisa kenny FishGoDeep thinktoy
August 7 Gabriel & Dresden DJ Mek Mr Scruff
No playlist yet for saturday night's proggy, as Power was filling in, and he has`t emailed me it yet

But... the show is online as usual for the next 6 weeks..
Now, speaking of Saturday night, i was in Drogheda for THE BEACH club, as previously mentioned. It`s the Old Soda Club i think? Anyway, i played there before, twice, under different circumstances.. Once with a terrible soundsystem, which i`d like to forget, and once with interference from The Local Police - who ended proceedings early, and made for a violent end to the night.. This time though, the piss was taken Completely. I was delayed starting for an hour, in 20-minute steps, and then the Acting Management REFUSED TO PAY. Yes, that is correct. REFUSED. Yes, the crowd was small, and complaining they had only heard about the night by accident, but who's fault is that? Not mine! I also had No idea this was an Opening night, and from the vibe in the place, i don`t think anyone else had an inkling about it either! Whatever - Bottom line, if you are going to cancell someone, do it 10 days in advance at the least - NOT while they are on the decks! I`m sorry, but this is the first time anyone i have worked for has coldly refused to pay me anything at all, and i am furious. Let it be known, this club DOES NOT PAY AS AGREED, and I wish to point out that PHUNKD'UP who asked me to play aren`t directly responsible for this load of bollocks, it`s down to the unexperienced individuals on site, and He who gave instructions to them, from his Dinner-Party In dublin City Centre. I FULLY intend to Name and shame this man, if i don`t gain satisfaction. In the meantime, anyone intending to play there should expect to be possibly ripped off, and at the very least perplexed and insulted! In fairness, the Club is VASTLY improved, and is very very do-able now.. great sound, nice decor (even a bitta sand in the foyer!), fine equipment and the staff seem happy enough.. I just don`t get where they are going with this Ropey money angle! Surely there is no future in that!
Sad huh?